There are a surprising number of people who deal daily with hand and wrist pain. This can include pain from a hand injury or accident to pain from hand arthritis. Regardless of the source of the pain, getting through the day without the full use of your hands can make every task a challenge. The best way to keep hands nimble and doing their very important job is to do regular hand therapy.
Hand therapy is an extremely beneficial, non-surgical approach designed to restore the use of the hands after injury or to keep hands flexible when dealing with disease. This does not include hand pain from carpal tunnel as treatment for this problem requires specific and special therapy techniques. Hand therapy can include stretching, splinting and exercising the muscles and joints of the hand, wrist and forearm.
Consulting a hand therapist is a great way to come up with a structured routine for hand therapy, but there are many exercises that you can do at home and on your own to improve or maintain your hand movements and keep your hands pain free. Many of these life solutions for hand joint pain come in the form of hand exercisers and finger exercisers.
The Ultimate Hand Exerciser is a great example of a great hand exerciser that you can use in your own home and on your own schedule. The unique design allows users to do a variety of exercises at varying resistances for adjustable hand therapy depending on a day's pain level or the severity of the injury. The same is also true of the Soft Touch Foam Exerciser Kit that has three weighted hand exercisers that are as simple as squeezing their soft foam to promote strength and flexibility for those who suffer from hand arthritis. Along the same line is the Theraband Hand Exerciser that also provides different levels of resistance and can be used warm or cold for added therapy.
In addition to whole hand therapy, there are also aids that exercise the necessary digits on your hand. The finger helper is great for strengthening weak fingers while the thumb exerciser provides excellent movement and strengthening for what may be your most important digit, the thumb. Again, these exercises actually work muscles, tendons and bones in the finger, hand, wrist and forearm, so the therapy is well rounded.
A person with hand joint pain or hand arthritis can't, for obvious reasons, spend their whole day doing exercises and it is suggested that during those times when you are not actively working joints and muscles of the hand to use Activwrap hand wrap or Isotoner therapeutic gloves, also available in a fingerless model, to help control swelling in hands and added comfort and mobility.
Our hands play a huge part in so many simple living skills and even the slightest interference in the use and motion of our hands can really make life difficult. Take the right steps towards independent living with hand pain and keep your hands nimble and strong for life long.
This article was published on Wednesday 15 December, 2010.
Products related to this article:


TheraBand Hand Exerciser
$12.95


Rainbow Putty
$5.95


Hand Exerciser
$8.95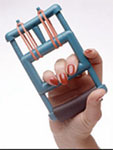 Finger Helper
$8.95