Rheumatoid Arthritis
Rheumatoid Arthritis is a chronic condition that affects the joints with swelling, redness and pain. It affects the joints in the arms and legs, specifically the wrists, fingers, knees and ankles. This type of arthritis is distinguished from other types of arthritis by its symmetry. This type of arthritis produces inflammation of the lining membrane of the joint. It affects the same joint on both sides of the body. It can also affect the heart, lungs and eyes in some patients.

The most common symptom of Rheumatoid Arthritis is fatigue. Other symptoms include low-grade fevers, loss of appetite and loss of weight all of which precedes the pain, stiffness and swelling of the joints. Inability to sleep is another problem that adds to the patient's overall fatigue. Morning stiffness and stiffness after inactivity are other common symptoms that may last for several minutes or up to several hours. Arthritis sufferers, in general, find that their pain increases when the weather changes, but sufferers of this type of arthritis are even more susceptible to rises in humidity and drips in barometric pressure. Patients with Rheumatoid Arthritis also have the presence of painless lumps under the skin usually on the forearms, ankles and fingers. These lumps disappear after a few months but the inflammation of the joints remain. The cause of this condition is unclear. It is believed by some doctors that patients who have Rheumatoid Arthritis some virus or bacterium trigger the disease in those people who have a genetic predisposition to it. It is also associated with various infections such as strep throat and mononucleosis. Instances of severe stress and even the weather have been known to trigger the disease.

Treatment for Rheumatoid Arthritis may include prescription drugs and over the counter pain medication such as Tylenol or Advil. Over all body health is key. Body weight must be controlled so that excess weight is not put on effected joints. Adequate rest is important and a healthy diet is recommended so that the body gets the vitamins and minerals it needs. An exercise program should be designed to strengthen muscles and to increase range of motion in the effected joints. Water exercises are the best since they put the least amount of strain on the joints. Since stress is a factor in this condition, it must be controlled or eliminated from the environment. Lastly, the patient should make use of products that help to make everyday activities easier to perform.

Recommended Products

Shower Chairs
Aids in stabilty during showers and baths.

Walking Canes
To assist in mobility.

Kitchen GadgetsAids in performing everyday kitchen chores.
This article was published on Monday 01 September, 2008.
Products related to this article: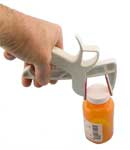 E-Z Grip
$13.95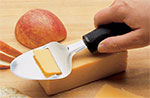 Good Grips Cheese Plane
$14.95


Good Grips Jar Opener
$12.95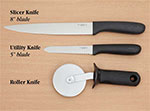 Good Grips Knives
$13.95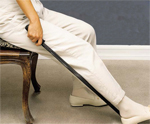 Good Grips Shoehorn
$11.95


Good Grips Utensils
$10.95