Arthritis
Arthritis, which means inflammation of the joints, is a condition that causes pain, swelling and limited movement in one or many joints of the body. Arthritis can be caused by many different illnesses and must be treated accordingly. The treatment for arthritis may include medication to reduce the pain and swelling of the joints. Occupational and physical therapy may also be advised.
Occupational therapists can teach arthritis sufferers how to perform daily activities in a way that doesn't aggravate their condition. They can show them how to modify their home and workplace so that painful motions are reduced. It is also the therapist's job to suggest products that can help perform everyday tasks with minimum effort. Products of this type help people with tasks that involve dressing, bathing, cooking and housekeeping. They are available on the LifeSolutionsPlus website.
Physical therapists are useful in providing information on how to use mobility aids such as walkers and crutches. They can also suggest various exercises, which are designed to strengthen muscles and help preserve the use of the joints.
There are several therapeutic methods available to patients to control pain and swelling. Rest is probably the most important especially when multiple joints are affected and fatigue is a problem. Individual joints affected by fatigue can be supported by the use of splints or a collar for the neck. Another major issue is weight control. This is a factor that must be controlled in the person with arthritis. Excess weight puts too much stress on already painful joints. Foot care also must be addressed since it is important that the body stay in alignment while walking. Finally, heat packs, ice packs and warm baths/showers are useful to help to relieve pain and relax muscle spasms around affected joints. In general, the person suffering from arthritis must improve his lifestyle. They must eat properly, get enough rest and do the right types of exercise. Swimming and water exercises have proven especially effective in reducing pain. Medication can also prove useful in controlling the pain and swelling associated with the disease.
Recommended Arthritis Aides

Zipper Pulls
Helpful in manipulating small zippers.

Walking Canes
To assist in mobility.
Kitchen Gadgets
Aids in performing everyday kitchen chores.
This article was published on Monday 01 September, 2008.
Products related to this article:


Adaptable Walker Basket
$31.95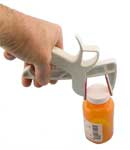 E-Z Grip
$13.95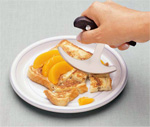 Rocking T Knife
$23.95


Norco Universal Quad Cuff
$13.95


FeatherLite Reacher
$15.95


Key Turner
$7.95