Kitchen Aids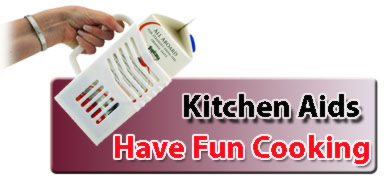 Our Kitchen, Eating and Drinking Aids Make Cooking Fun Again
Those suffering from arthritis or other ailments that weaken joints or muscles have an especially hard time in the kitchen. Tight jars, heavy cans and difficulty cutting food make cooking more of a chore than a joy.
That's why we offer a complete selection of Kitchen Aids, Eating Aids and Drinking Aids to help you or a loved one enjoy the kitchen again. Kitchen aid products like our electric jar opener and rubber jar opener help open the most stubborn jars. If you or a loved on has trouble getting a meal down to size, our food cutter selection is the perfect solution as part of our cooking aids.
Our specially-designed collection of cooking and eating utensils, like our food scissors, are all designed to help those that have trouble gripping objects, cutting food or peeling vegetables and fruit.
All our kitchen aids, including our electric jar opener, food scissors, our rubber jar opener, food cutter and more have been selected for their quality and ease of use. Life Solutions Plus is committed to providing the best kitchen aids available for independent living at the best possible price.
When you want the best kitchen aids at the best prices, Life Solutions Plus is here for you. Shop our selection below!