For those of us with bad backs, getting out of a car can be a real struggle, but don't let it.  The Assurance Car Handle will give you the support that you need to get out of your car easily.  This unique handle fits into the striker of most car doors and creates a sturdy place to grab onto.  The handle itself has a non-slip surface to give you a really good grip.  This car handle is so strong that it will hold up to 350 pounds.
You would think that getting you safely out of your car would be enough, but not for this sturdy handle.  This car handle also has a long-lasting LED flashlight to provide extra visibility at night, a foldout compartment where you can put a spare house or car key and lastly, the top of the handle can be used as an ice scraper for those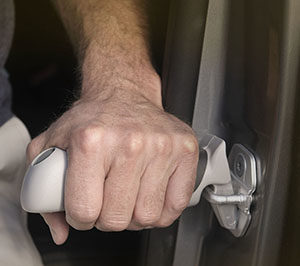 cold mornings.  This sturdy little handle can be used to break a window in an emergency.  This is one product that everyone should keep in their car's glove compartment.  You never know what you are going to need these days.
To be sure, this is one product that one you use it, you know that you can't live without it.  Try it at your local medical supply store to see what it can do.